I'm late on this because I rarely get blogging before midnight, but consider this a "Friday" post.
I just found something very cool -
@homedad
hosts a meme called
Fiction Fridays
which is all about showcasing the children's books you are liking, reading or enduring.
You share a picture of the book and the opening line, and share and link back.
So here is my first:
Amy Wild, Animal Talker: The Secret Necklace
Diana Kimpton, 2010 (Usborne)
"I want to go home," groaned Amy Wild.
"That's where we are going," said Mum with a smile. She leaned over the rail of the boat and pointed at the island that lay ahead. "Clamerkin is our home now."
I love this book, and so does my 6-year-old daughter M. She picked it out at the library and I read her a chapter each night in bed, and she has been rapt.
Last year I was looking for a chapter book for my nine-year-old niece and this (though a little young for her) was exactly the sort of thing I was looking for and couldn't find. All the boys' chapter books were cool things like
Zac Power
, but there was nothing like that for girls. The girls' books were all about sleepovers, being the new girl at school, birthday parties etc. That's all good and necessary of course - but where were the mysteries and adventures that I loved when I was a kid? Girls doing cool stuff? There was nothing like that in the bookshop.
Then M picked out this in the library, and it turns out this is the first in a series, about a girl who moves to a new home on an island, is given a magic necklace which enables her to talk to the local animals, and hangs out with the animals solving mysteries and fixing problems for the islands' residents.
This book has all the ingredients for a great kids' - dare I say girls' - story:
child reluctantly moving house;
living on an island;
small community;
an empathetic grandma;
loving but lenient and clueless parents;
a secret;
magic;
animals;
independence and mobility;
a special skill;
solving mysteries.
Check, check, check, check, check. I'll take it!
If you want to join in Fiction Fridays, click the badge below to find out more, and how to play.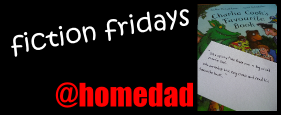 Until next Friday, memesters!
Jackie